May 6, 2022
Venterra Residents Added 236 Pets in 10 Days!
At Venterra, we LOVE furry friends. Once you're a resident at one of our communities, you are family and that includes your furry companions! Walk into any of our communities and you'll instantly be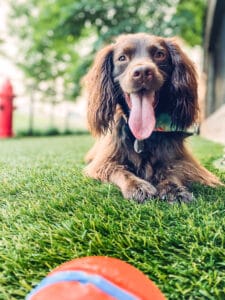 greeted with affection and excitement from the many pets that call Venterra communities' home. However, we know the reality is that there are still tons of amazing pets waiting for their fur-ever homes.
That is why we celebrate National Adopt a Shelter Pet Day and National Pet Month by making it easier than ever for our residents to welcome pets into their homes. To support National Adopt a Pet Day, a day was created to raise awareness for the millions of animals waiting to be paired with families in shelters across the country, we participated by encouraging our residents to adopt an animal, and to support this initiative, we waived all pet deposits for any animals added to leases from April 20 – 30. To maximize the adoption impact, new and current residents were able to take advantage of the promotion!
WE ARE THRILLED TO SHARE THAT OVER 10 DAYS WE ADDED 236 PETS TO HOMES ACROSS THE VENTERRA PORTFOLIO!  

We love our four-legged residents and look forward every year to welcoming new furry faces each year. And what's great about living at a Venterra community is that we are extremely pet-friendly! Most apartment communities only allow for a maximum of two animals. At Venterra, however, we understand that animals are family so we welcome three animals per apartment home! Who else can say that??
Pets add extra value and affection to our world. So, it was no surprise to learn that during the pandemic, more than 23 million American households — nearly 1 in 5 nationwide — adopted an animal during the pandemic, according to the American Society for the Prevention of Cruelty to Animals (ASPCA). These numbers show how many of us have been craving that unconditional love that pets are so genuinely good at as well as that companionship and connection.
Whether you're a current Venterra resident or a pet parent looking to move into one of our beautiful communities – you are in the midst of so much animal love! We can't wait to help you find the purr-fect apartment for you and your furry friends! So, if you're in the market for a new apartment, or are interested in adding an animal to your lease, check out our outlined Pet Policies to learn more!