January 3, 2022
10 Ways to Prepare Your Apartment for Winter
Winter Solstice has come upon us which means that the winter season is officially here. While it may not feel like winter in some areas yet, history has taught us that winter weather can strike at any moment. After all, who can forget the great Texas Freeze last year or the Snowmagedon that fell upon many of us? No one was able to fully predict how bad it was going to be. Many were not prepared with tips on getting their homes ready, stocking up on perishable food and bottled water, or having emergency aid kits available. Even the electric companies weren't prepared for the cold which resulted in more than 4.5 million homes being left without power for days on end. Pipes and hot water heaters burst flooding homes and hundreds of dollars of food spoiled. And tragically, many people died because they did not have the resources available to support this type of winter storm.
I think we can speak for all when we say, WE DO NOT WANT THIS TO HAPPEN AGAIN!
Fear not, though. There are many ways to prepare in advance for these sudden surges of freezing temperatures and blasts of arctic cold air so none of us are left out in the cold wishing we had taken action sooner.
Together, by each of us taking these precautions we can be better settled, prepared, and at ease when the frigid temperatures fall upon us.
What are some of the best ways to prepare in advance for freezing temperatures?
Test out your heat.

Make sure it works properly by turning on, adjusting the temperature up and down and waiting for your space to heat up. If you have any issues, contact your maintenance team ASAP.
Please keep your thermostats set to at least 68 degrees. It's important when the temperatures begin to dip to cold/freezing to have your thermostat set to at least 68 degrees. This will ensure that your space is warm and acclimating accordingly to the fluctuating temperatures.
Vacation: If you leave for winter travel, leave the heat on low to keep pipes warm. Even if it's warm when you're leaving, it's important to turn heat on to 68 degrees in the event that the weather changes rapidly.
Adjust fans: Set your ceiling fans to rotate clockwise in winter to circulate warm air.

To change the direction on your fan, find the small switch in the center of the fan and switch it to change directions to clockwise.
Check Smoke Detectors and Carbon Monoxide alarms.

Press the test buttons on all detectors in your home to ensure that they are working. If you are having any issues or are unsure how to test, put in a work order for maintenance to test.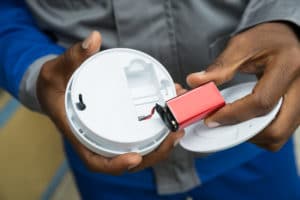 Prevent frozen pipes.

One of the biggest mishaps that occurs during freezing weather is pipes bursting. When pipes burst, they can cause water damage, flooding, and extensive labor to repair and/or replace the pipes. This can be costly, time consuming, and disrupting to your life and damaging to your things.
If the temperature drops below freezing (32 degrees), Turn all of the faucets in your apartment home on to a slow drip to keep water moving; a good rule of thumb for a slow drip is 1 drop every 3-5 seconds. Water running through the system will prevent the line from freezing.
Open your cabinet doors to allow heat into the cabinet spaces to heat the walls; this will help prevent your pipes from freezing and possibly bursting.
Caring for your plants – we know you have them!

If possible, bring your plants indoors. Plants should remain indoors or covered until the temperature climbs to above 32 degrees.
If you aren't able to bring them inside, water them and cover them with a cotton covering, like a bedsheet. This will trap in any ground heat and help protect your plant from wind.
If you are covering your plants, you'll want to make certain that the covering is anchored to prevent wind getting in or blowing open a small opening.
Be prepared for an emergency winter storm by preparing an emergency winter storm kit. Below are the items we recommend having in your kit.

Flashlight with batteries. Ensure that your batteries are charged or new so that you have full charge.
First Aid Kid for any unforeseen incidents.
Bottled Water
Non-perishable foods
Car charger for cell phone; you can also include a backup charger that is fully charged and ready
Candles and matches – large candles in a glass or tin vase are best to shield the candles from open air.
A cooler for storing food if the power goes out. You can place your refrigerated items in the cooler and place outside.
Socks, gloves, hats, and extra blankets in case the heat goes out.
Ice scraper for your car windows.
Be Careful with Candles and Space Heaters.

Take extra precautions when using spaces heaters and other warming devices. Make sure that they are not close to any curtains, fabric, water or anything that could cause a fire to spark. It's best to have space heaters in an open space unobstructed from objects.
Never leave candles, space heaters, and other lit decorations unattended in your apartment—not even for just a few minutes. It is not uncommon for accidents to occur each year because people forgot and left something plugged in or lit and went away to the store or off on a vacation.
Do not keep candles lit at night or leave space heaters on. Be sure to blow all candles out before you go to sleep and turn off space heaters.
How to support your furry friends during the cold:

Please make sure that your pets are kept indoors at all times, with the exception of necessary bathroom breaks for our canine friends, of course. Just because animals have coats of fur does not give cause to leaving them outside unattended during frigid weather.
Take care of yourself.

Please be aware that walkways and roadways may be covered with ice. Make sure to take care when walking or driving within the community.
Check in with family and friends when a storm hits or temperatures drop to let them know your status and how you are.
Keep your phones charged and ready for an emergency.
Have some activities like coloring books, games, and books available so that you can save the batteries on your devices for emergencies.
Check on your neighbors to make sure they are okay and have what they need. Remember, we're all in this together!
Notify your maintenance team of any issues as soon as possible.

Keep tabs on your apartment and put in a request for any issues with frozen pipes or issues with the heating system ASAP.
We care first and foremost about you, our residents, and your neighbors. We want to ensure that you are physically safe and prepared for unexpected shifts in weather. We also care about your homes and maintaining routine checks of your heaters, water pipes, and water heaters so that you are prepared for freezing temperatures. Keeping our homes in order by being proactive and prepared will support everyone in ensuring that homes and buildings are stable and ready for any storm.
Start your routine check of your home today by getting the supplies needed for your emergency kit as well as checking to ensure your heater is working and ready to go for temperatures as they begin to drop.
Call the office or put in a work order for any support you need.
Stay safe. Stay warm.
Together we can protect ourselves, our neighbors, our pets, and our apartments from reliving the events that took place during the Snowmagedon last year.