May 18, 2021
How 120+ Pets Joined The Venterra Family in Two Weeks!
At Venterra, we know that pets are family members – and we were so excited to welcome over 120 new fur-ever friends to our communities in just two weeks!
April and May shine the spotlight on our furry friends with National Adopt a Shelter Pet Day on April 30th and National Pet Month spanning the whole month of May. National Adopt a Shelter Pet Day was established to help bring awareness to the 1,000's of pets still in shelters waiting for their forever homes and National Pet Month celebrates the special bond between pet owners and their furry friends while encouraging responsible pet care every day of the year.
We know how important (and cute) pets are so, as a pet-friendly community and in support of these national howl-idays – we waived pet deposits for all new pets moving into a Venterra community. That's right. Any new pets that moved in a paw-some Venterra apartment from April 15-30 didn't require a pet deposit!
This two-week offer was available to both new and existing residents, and we were thrilled with the results, adding a paws-itively impressive 129 pets to existing leases! Pets also aren't just enjoyed by our residents; our staff loves seeing sweet pictures of our purr-fect furry friends too – that's why we encouraged our residents to share pictures to show off their purr-sonalities! Below you'll see Obi-Wan who instantly loved cuddling up in the CoHo Apartments in Atlanta and Luke, the curious Kitty in Katy, Texas and the proud new resident at Elation Grandway West!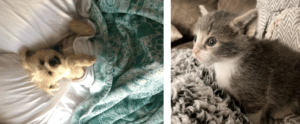 In addition to waiving the pet deposit, some communities like Park at Wurzbach worked with local shelters to encourage adoptions! To help find a forever home, the San Antonio community partnered with Charming Pet Rescue to feature senior pup Holly who also had her adoption fees sponsored.
Looking for ways you can make a difference in a shelter pet's life? Petmate has outlined the following options to give back:
Adopt a Shelter Pet: Before you make this decision, be sure that your home is ready to accept a new furry family member. Visit your local animal shelter to pick your potential new pet and talk with the staff about any special needs or food your new pet may need.
Volunteer: If you simply cannot adopt right now, consider volunteering at a local pet shelter. Things you may end up doing include playing with the animals and socializing them, getting them some exercise, cleaning up their pens, feeding and watering them, as well as just hanging out with them so they have some type of human interaction.
Donate: If you just don't have the time, donate instead! It doesn't even have to be money. Animal shelters rely on supplies and donations throughout the year. Be sure to reach out to your local shelter to find out exactly what they need. Sometimes, shelters have specific supplies they ask for.
Become a Foster: Maybe you want a pet but can't commit to the long-term care of it. If that's the case, consider becoming a foster! Fostering a dog is when you take in an animal while the rescue group finds the dog a forever home. Most of the time, you'll be working with a rescue group vs. an animal shelter. There are qualifications you'll have to meet in order to foster a dog, so be sure to reach out to a local rescue group ahead of time. Becoming a foster not only helps our rescue groups, but also keeps animals out of shelters.
Whether you're a Venterra resident or looking to become one – just know that you are in the presence of pet lovers galore! Do you have questions about adding a pet to your lease? Check out our outlined Pet Policies.