June 15, 2020
Venterra Realty applies LAST™ advanced disinfectant at communities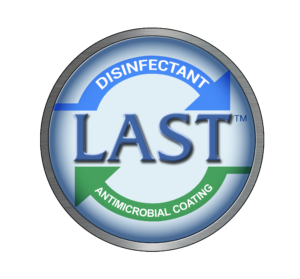 As apartment community managers reassess cleaning protocols to ensure the health and safety of our residents, the adaptation of intensive disinfecting and cleaning methods remains a high priority. With a strong focus on high-touch surfaces in common areas, such as door handles, mailboxes, desks, vending machines, and more, anything that gets touched frequently in common areas is a prime candidate for disinfecting.
Venterra Realty uses LAST™ from Dis.In.Fx. LAST™ to aid in protection from COVID-19 in common areas and apartment amenities. Going beyond our gold standard of cleanliness, applying LAST™ disinfects hard surfaces and provides protection for up to 90 days. 
Venterra is now offering LAST™ treatments to our residents at specific communities. Sign up for your LAST™ treatment on the Venterra SMARTHUB. 
Sign Up for LAST™
See our teams in action!
"93% of residents would prefer their new unit to be sanitized when they move in."  "90% of residents would feel safer knowing that common areas and amenities are regularly sanitized by a certified company with approved equipment and chemicals."   
– RentReady.com 
At Venterra, we have applied LAST™ disinfectant at our properties in the following cities:  
Georgia – Alpharetta, Atlanta, Newnan, Peachtree City, Canton
Florida – Clearwater, Fleming Island, Jacksonville, Orlando, Orange Park, Tampa, Winter Garden 
Texas – Austin, San Antonio, Cypress, Richmond, Stafford, Houston, The Woodlands, Humble, Kingwood, Katy, La Porte, League City, Pearland, Pasadena, Fort Worth, Dallas, North Richmond Hills, The Colony 
Tennessee – Nashville
North Carolina – Cary
Dis.In.Fx. have served the following clients: San Antonio Spurs; Dallas Cowboys; Houston Texans; various Day Care Services; Various Schools Districts; Various Fitness Centers; Various Medical Facilities and US Military Training Centers. To learn more about Dis.In.Fx. and their disinfectant visit their website or see the below testimonials on how LAST™ works. 
Testimonials: